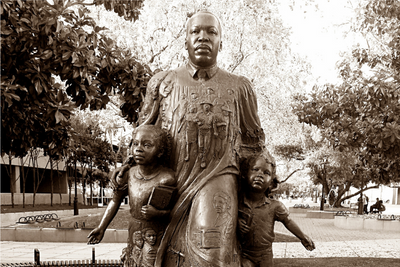 This month marks the birthday and national holiday of Dr. Martin Luther King Jr. I remember the exact place I was when the news broke about his assassination. I was in school, the last study hall session for the day, and the announcement came over the loud speaker. Our principal's voice sounded shaken as he stumbled over his words. All the students stopped and listened, and for a moment, even the toughest bullies looked solemn, as if a member of their own family had been murdered. The occasion was the only second time there was an early release from our city's schools; the first was when JFK was assassinated. On the way home after hearing the news about Dr. King's death, the half an hour walk home seemed like hours. My close friend lectured it was a conspiracy to kill all Negros, because her family believed the teachings of Malcolm X. I was in fog wondering:  Why did this have to happen? I was sad and scared walking home down familiar tree-lined streets with well-kept lawns surrounding homes kept with pride by both Whites and Negros. Would these neighbors fight each other?
When I arrived home, my parents had CBS news playing Walter Cronkite's broadcast outlining Dr. King's assassination and his life. The images of his impactful leadership fighting for the Negro's voting and equal rights still haunt me. Those years were packed with newspaper and magazine pictures and articles, and televised scenes showing Southern Negros who peacefully demonstrated, while being held to the flame: unflinching police bully-club beatings, powerful fire hose battering and slicing a man or a woman's body as if it were made of paper, treacherous German Shepherds unleashed, ripping into innocent men, women, and children, mortal gunshot wounds, drowning, or a mob favorite—lynching. Why did White America hate Dr. Martin Luther King Jr.? What was its fear? Today, that question steals my breath.
Growing up in the North, my grandmother and I often caught the bus to go downtown, and we sat where we wanted. I don't recall seeing signs for separate drinking fountains, bathroom, or dinning cafés for Whites and Negros. I always attended an intergraded elementary, middle, and high school. Our town, founded by a free slave, was on the Underground Railroad Route, and with that, there was a bit of independence enjoyed by the Negro. I also shared a camaraderie with White, Italian and Jewish students during the day, yet despite certain freedoms, there were boundaries and neighborhoods where Negros were and weren't allowed after dark. Was this Dr. Martin Luther King's dream? The reality was my world was not the norm. The Negros in the South had it far worse.
I never took for granted that the life in my town was ideal or not. It was home and that's all I knew. I  couldn't imagine a place where I wanted to be during those times when life was carefree and school was my only point of interest. My family was my center.
Fast forward to college in California, to the huge momentum in Los Angeles to change the name of one street called Santa Barbara Avenue, to Martin Luther King Jr.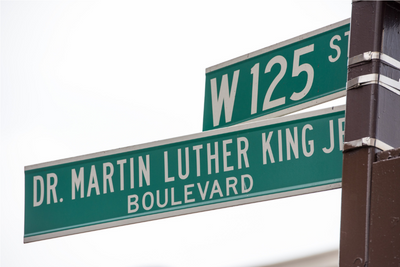 Boulevard (or as some say in short:  King Blvd or MLK Blvd). I was a member of a college organization uniting all Los Angeles colleges, called the United Black Student Union. One of our goals was to gather thousands of signatures and present petitions to the Mayor and City Council in order to legally change Santa Barbara Avenue located in the heart of the historical African American neighborhood of Crenshaw, Leimert Park, and Baldwin Hills. We canvassed weeks and weeks, and weeks, and weeks, and weeks—knocking on doors requesting petition signatures. Some people were enthusiastic, some pessimistic that the street's name would never be changed, and some felt a street name change wouldn't change America's perception of its unwanted citizens. Yet, fast forward to today:  there are at least 955 streets in the U.S. named after Dr. Martin Luther King Jr., and Los Angeles has the largest parade and community activities honoring Dr. King on his birthday, an annual event for the last 38 years.
Can the thought of celebrating Dr. Martin Luther King's birthday mean that times have changed? I would like to think so.