Told in a raw voice, bares a woman balancing a tightrope between sanity and insanity. The Last Merry Go Round brings you front and center into Diane and Richard's marriage as fragile as china, as volatile as a land mine, and as loving as two strangers on a train.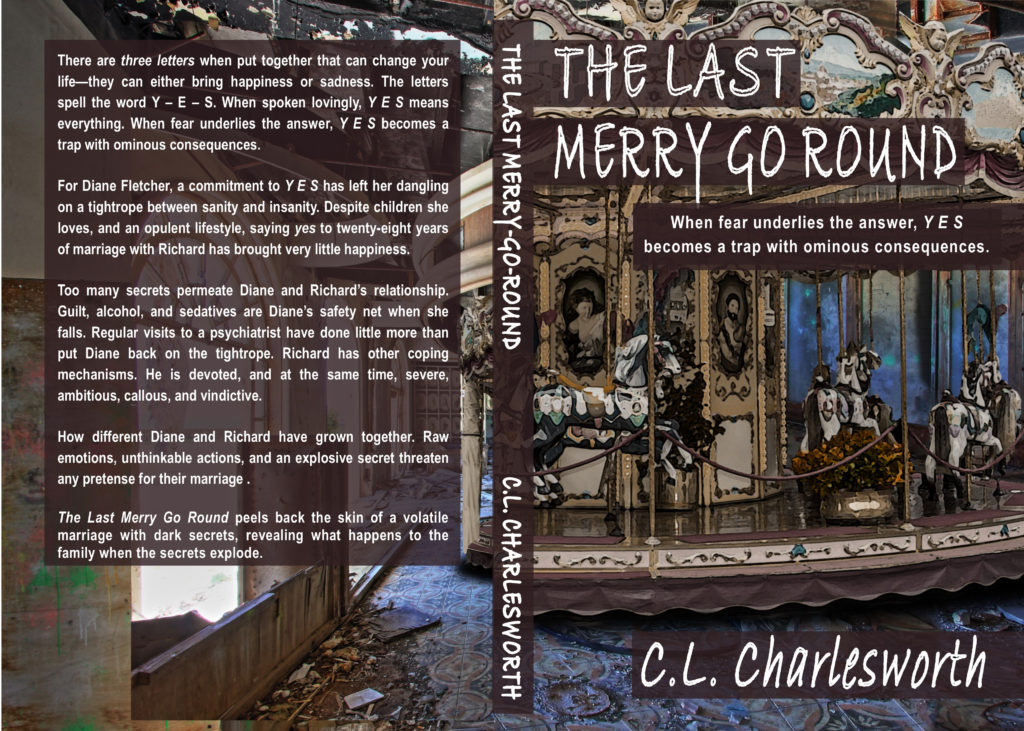 Excerpt
First thoughts today:  The coffee is cold. And I can say with full honesty, sitting across the table from Richard, in our twenty eight years of marriage, the word yes has brought me little happiness. I know and believe from all I've come to accept, the longer I stare at the kitchen's cracked plastered wall in need of repair; this image symbolizes our love and marriage. The light in a once romantic and naive sixteen-year-old falls dimmer and dimmer. Oblivion paints a foregone conclusion. If only Richard has cared to listen. But this isn't the morning. He's too happy. His just shaven face energizes and re-energizes the more he talks and talks. The patient wife doesn't interrupt. A dutiful smile passes from her face to his. Richard is who I am, and what I am is lost between the beginning and the end of his sentences.
---
Excerpt from Chapter One
I learned from my mother, who was once one of the highest paid fashion models, that great beauty opened doors. She never left home without impeccable attire, full makeup, and photo-ready hair. She said a woman's sexuality was better than an American Express card, and if used right, the rewards were much better. Mother said her money was for pleasure and not for rent, food, or life's other necessities. She had men-lots of men-whose generous wallets and bank accounts gladly emptied into her hands.
By the time I was eight years old my passport was well stamped, I knew the capitals of fourteen countries, and that first-class plane seats came with much more than dime-store peanuts.
Life was gloriously perfect, even without a father. Throughout the years, Mother created various versions of how he died. Her story depended on who was listening and how much sympathy she needed that day. My dad perished in a car accident, robbers murdered him in Central Park, or he committed suicide. I lost track of the ways in which he died; the point was, I never knew, nor saw him.
Mother used to gloat after signing autographs. She knew her fame and status rivaled that of any movie star. The more people called her an icon, the more her vanity and ego exploded. Narcissism systematically replaced all the ridiculously priced paintings in our Manhattan apartment and Beverly Hills home. She needed to see and touch over-sized reproductions of her magazine covers, portfolio pictures, and professional photographs that she had commissioned. I never thought my mother was crazy because she was so breathtaking and always said she loved me.
My own sexuality was formulated by her open nudity at home and refusal to close the doors to her bedroom when she was making love. She allowed me to observe a woman's capability to get what she wanted when I hovered in the darkened hallway and listened to the sounds and watched the movements in her candlelit room.
I admired my mother, faults and all. She was my protector, mentor, and the only person I trusted until the day before my tenth birthday, when she and my nanny never returned home. The final sentence of Mother's note left on my dressing table has forever stained my life—Forgive me, but motherhood has become an inconvenience.
Available on Amazon and Barnes & Nobel
"…I must tell you I read an excerpt of your book on Amazon and I am so looking forwarding to the rest of the story.  Stephanie has already captured my heart and I am anxious to find out how her mother's desertion influences her life…."–Karen (May 05, 2015/email)